Chishty Sufis create history with first-ever Sufi Dastangoi Performance in the World
Ajmer Global Sufi Foundation presented the first ever Chishty Sufi Dastangoi Performance in around 900 years of history of Sufism

Conceptualized by Sufi Hazrat Syed Ryazuddin Chishty from Ajmer Dargah and presented during Dilli Durbar 2023 to a packed outdoor arena adjacent to India Gate Lawns

This first-ever Chishty Sufi Dastangoi Performance – had components of Dastangoi (storytelling), Qawwali (singing) and Raqs (Dance)
New Delhi: Ajmer Global Sufi Foundation presented the first ever Chishty Sufi Dastangoi Performance in around 900 years of history of Sufism during Dilli Durbar 2023 in New Delhi. The unique presentation was conceptualized by Sufi Spiritual Imam or Guru, a direct descendant of Prophet Mohammed and Gaddi Nasheen of Hazrat Khwaja Moinuddin Chishty Habibullah (of Ajmer Sharif), Sufi Hazrat Syed Ryazuddin Chishty and had components of Dastangoi (storytelling), Qawwali (singing) and Raqs (Dance) beautifully entwined in the production.
The Sufi dastangoi was presented at New Delhi's Kartavya Path, Central Vista (India Gate Lawns) during the second edition of Dilli Durbar 2023 Music festival organised under the aegis of Azadi ka Amrit Mahotsav, Ministry of Culture, Government of India. The production was highly appreciated by the completely packed audience at the outdoor arena. Artistes who presented all the three components of the production – Syed Muizz Chishty, Akshay Dutta and Danish Hilal Khan are all adherents of Chishty Sufism.
Theme of the Dastangoi was Sama (meaning the sound of wisdom) or Sufi songs. In Sama, the singing component of production; qaul was performed, followed by qalaam (of Hazrat Ameer Khusrau) and culminated with rang. Danish Hilal Khan, a renowned Singer from Dilli Gharana showed his depth, full throatal command and vast oeuvre; and played the pivotal role in the production.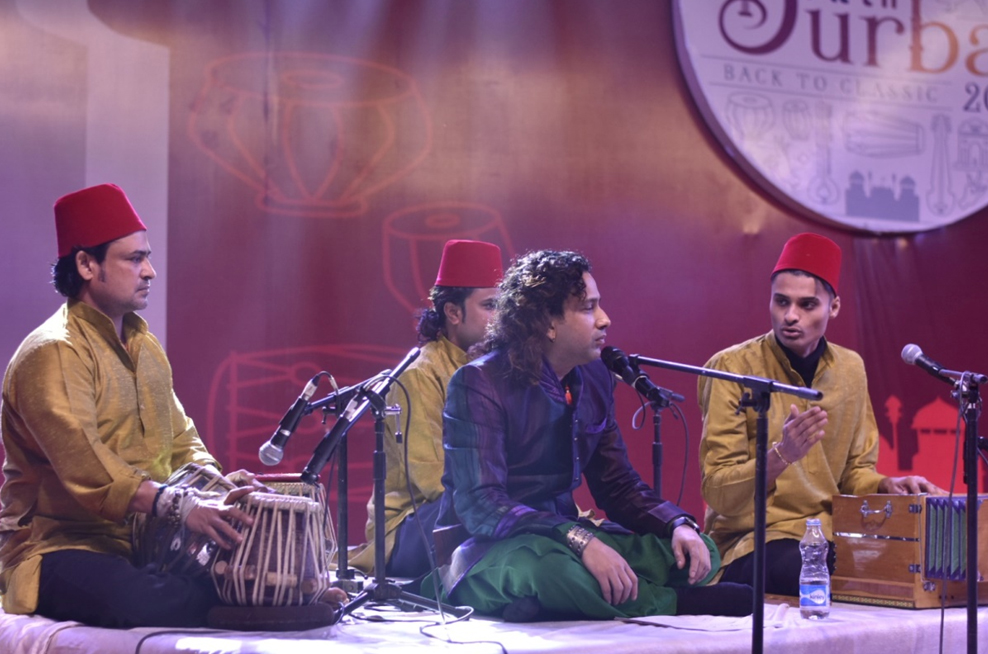 Dastangoi (or storytelling) was performed by Syed Muizz Chishty, a Sufi and a direct descendent of Prophet Mohammed. This was his first ever performance on stage and he appeared at ease and home with his faultless narration and clear diction. Words and narration came naturally to him, since he is a disciple of Sufi Hazrat Ryazuddin Chishty and a gaddi nasheen of Hazrat Khwaja Moinuddin Chishty Habibullah (Ajmer Dargah). In times to come, he will jostle with the more established names in the fast mushrooming Dastangoi genre of performance in India.
The dastangoi on Sama could not have been complete without Sufi Raqs. Raqs or Dance is the traditional method through which Sufi saints and Gurus connect with the ultimate Spiritual power (Allah or God). Akshay Dutta an adherent of Sufism and a disciple of Sufi Hazrat Ryazuddin Chishty and hailing from the city of Ajmer performed the Raqs – in Kathak style. He was in complete sync with the narration and at the same time with the Qawalli. His adakari made the words and couplets easy to understand for the audience.
Sufi Spiritual Imam or Guru and Gaddi Nasheen of Hazrat Khwaja Moinuddin Chishty Habibullah (of Ajmer Sharif), Sufi Hazrat Syed Ryazuddin Chishty says "India is a land of myriad faiths and religions. World-renowned Sufi Saint Hazrat Khwaja Moinuddin Chishti (Habiballah) has laid the foundation of Ganga Jamuni Tehzeeb in India. People of different faiths lived harmoniously with each other. Sufism has added its own mysticism and traditions to this melting pot of Indian culture – which gives it a different flavor and fragrance than most other cultures. This complete intermingling has helped create a unique brew what we now know as "the Ganga Jamuni culture", "the syncretic tehzeeb" or "Unity in diversity" that India is famous for and what the world loves about India and travels to experience."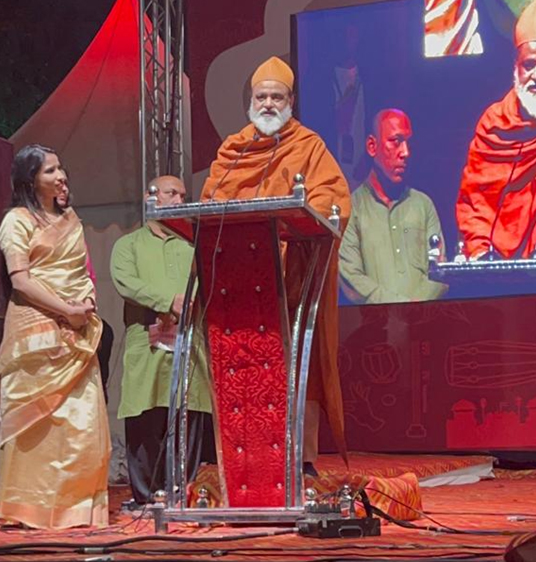 Ajmer Global Sufi Foundation has been established with a singular pursuit of imbibing the lost teachings of Sufism to the world. It focuses on "Love is Universal religion" and all its activities are designed to achieve this open-eyed dream of Sufi Spiritual Imam or Guru Sufi Syed Ryazuddin Chishty. Sufi teachings that it wants to propagate further is increasing love and bonding between all world citizens, helping any human being to the extent possible and ensuring a just society which will be treating all human beings equally, irrespective of their caste, creed, religion, colour or social status.
About Author