Medgate Today's MedTech Policy Mahotsav Conclave Calls for Policy Reforms, Collaborations, Innovations, and Competitiveness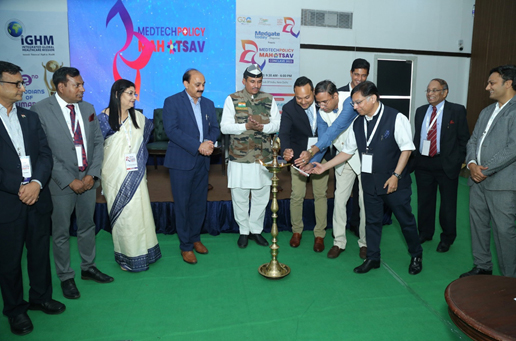 New Delhi: MedTech Policy Mahotsava Conclave 2023, organized by Medgate Today, witnessed a remarkable turnout of industry stakeholders, policymakers, experts, leaders, regulators, and manufacturers. The day-long conclave, held on Saturday, served as a platform for intensive discussions on various aspects and dimensions of the MedTech sector. MedTech Policy Conclave, organized after the introduction of National Medical Devices Policy 2023, gets a robust response from all stakeholders and during four Sessions the industry chalk out a roadmap for the future.
With a focus on policy reforms, symbiotic relationships with the government, collaborations, commitment, automation, re-inventing GeM, and innovation, the event aimed to achieve the target of a USD 50 billion MedTech economy by 2030. Supported by esteemed organizations including the Global MedTech Advocacy and Advisory Forum (GMAAF), AiMED, Invest India, iGHM, AMG, AHPI, Prius Communications, and admi, the conclave's four sessions diligently worked towards outlining a roadmap for the future.
Welcoming the delegates, Afzal Kamal, Editor-in-Chief of Medgate Today, highlighted the significance of the MedTech Policy Mahotasav as a part of industry endeavors to contribute to the "Make in India" policy for an Atmanirbhar Indian MedTech. "The conclave aimed to boost research and development infrastructure, gearing up for an aspirational $50 billion MedTech economy. The four sessions of the conclave aimed to deliberate on critical issues in the MedTech segment," added Afzal Kamal who also emphasized that after the implementation of the National MedTech Policy by the government, the Conclave provided an opportunity to assess its strengths and the way forward. 
While detailing the theme of the Conclave Gaurav Agarwal, Chairman of GMAAF and Conference Chairman also shared his views on policy fronts and highlighted the key issues pertaining to the sector. "Indian medical industry is at the cusp of an inflection point.  The pandemic proved the immense resilience of the sector and building on that success, $50 billion in 2030 is a distinct possibility.  We need to ensure that the industry adheres to the highest standards of voluntary quality management systems, thinks GLOCAL, and gets a high share of Capital Medical equipment globally. This is the Golden Decade of MedTech in India boosted by a favorable policy environment, " stated Gaurav Agarwal.
During the inaugural session, in her address, Dr. Minnie Bodhanwala, Co-Chair and President-Medical Value Tourism of GMAAF and CEO of Wadia Hospital, Mumbai, emphasized the progress made in MedTech and the need for contemporary policy interventions and support to transform India from an import-dependent to an export-confident Indian MedTech country.
Rajiv Nath, Forum Coordinator, AiMeD at the Key Note Inaugural Address stated "India's Imports which had shot up by a steep 41% to Rs 63,000 crore in 2021-2022 have been stalled and now hovering at Rs 61,000 crore. We hope now onwards with the support of the Medical Devices Policy and Actions, this graph will be reversed from 80% import dependence to a reduced 20-30% import dependence in the next 5 years. We are not against imports as long as they do not undermine Indian manufacturing and provide a basis for healthy value-based competition."
The inaugural session was followed by a Panel Discussion on R&D, Innovation & Infrastructure. Chaired by Dr. Jitendra Sharma, CEO and MD, Andhra Pradesh Med Tech Zone and Moderated by Dr. Ravi Rathod, the session witnessed intense knowledge sharing on the most critical issues of the sector.  Dr Ravi Kant Sharma, Deputy Drugs Controller at CDSCO (Central Drugs Standard Control Organization) highlighted the issues pertaining to the safety, quality, and efficacy of drugs and devices in India, contributing to the overall public health and well-being. Underpinning the pain point Dr Ravi Kant said "While Pharma exports to more than 100 countries are remarkable but we have not been able to replicate the same feat in MedTech because of a lack of regulatory clarity." The session also witnessed valuable suggestions coming from Dr Atul Nasa, Pro Vice Chancellor, SGT University.
Moderating a session on Financing and Investment Opportunities for MSMEs in the Medical Device Industry Dr. Rajiv Chhibber, Vice President Sahajanand Medical Technologies said, "MedTech Policy Mahotsav by GMAAF and Medgate Today is the first-of-it-kind kind event post the release of the Medical Devices Policy 2023. Post deliberations, the domestic industry is optimistic that together in a PPP mode, we would be able to create an ecosystem for the holistic growth of the overall healthcare industry in India, make India self-sufficient, reduce import dependency to a large extent, expand both markets and exports, where one can hope to see exponential growth in the coming years to achieve the vision 2047, achieving the vision of making quality healthcare accessible to all." During this session, industry experts including Ms. Sonia Gandhi, Chief of Investments (Life Sciences) at BIRAC, Akriti Bajaj, Vice President of Invest India, and other eminent figures brainstormed on finance and investment-related issues.
The panel discussion on the National Medical Devices Policy shed light on the progressive steps taken to promote the medical device industry. Speakers during the discussion included Dr. N Yuvaraj, Joint Secretary, Department of Pharmaceuticals, Gaurav Agrawal, MD, Innovations Imaging Technologies, Shankar Vardharajan, Director, Times Medical Systems, Atantra Das Gupta, Head of Samsung HME, Dr. Amit Asthana, Associate Professor and Head, Dept. of Medical Devices NIPER Hyderabad, and Pawan Chaudhary, MD, Vygon and Chairman, MTAI.
Addressing the session on Navigating Challenges and Opportunities in Public Procurement of Medical Devices under the Make in India vision, Anjan Bose, Founder Secretary General of NATHEALTH, emphasized the need for a symbiotic relationship between the industry and the government. He gave the mantra C Square I -Collaborations, Commitment, and Innovations (CCI). The session was moderated by Ms. Jyoti Singh, a Public Procurement Expert at GeM. Participants such as Jatin Mahajan, MD of J Mitra & Company; Manish Sardana, President of Poly Medicure; Sunil Khetarpal, President of AHPI; Aditya Kohli, Joint MD of Allied Medical; and Pankaj Narula, MD of Srishty Medical emphasized the growth potential and the relevance of GeM for the industry. Pradeep Narkhede, MD of Shalya Xcellance Medical Technologies, addressed irregularities and violations of tendering norms on the GeM portal, calling for transparency and accountability. However, Manish Sardana said, "GeM is constantly evolving and adopting advanced technologies. It has immense potential. A concerted effort is required from all government buyers, sellers, and the various partners in the GeM ecosystem to make it a success and to allow it to unlock its full potential."
According to the industry leaders, the Make in India initiative and objective of 25% of the GDP share of the manufacturing sector can only be achieved with such unified public procurement regulation, which will ensure the timely closure of tenders, procurement, and also costs.
"The government should form a unified public procurement regulatory authority that not only enables unified fair competitive procurement policy and enables pre-bid and post-bid technical, contractual and commercial negotiations involved all stark holders including vendors, avoiding unnecessary delays, aggressive and irrelevant specifications, vendor qualification and commercial terms; and unviable contractual terms but also acts as a watchdog for the same," suggested Pankaj Narula.
During the Panel Discussion on adult vaccinations, Dr. Arun Agrawal, Clinical Advisor at Apollo Hospitals Group; Dr. MS Kanwar, Senior Consultant at Apollo Hospitals; Dr. Chanchal Pal, Past President of IMA; Dr. Kalpana Nagpal and Dr. Pakhee Aggarwal, Senior Consultants at Apollo Hospitals made a passionate appeal for vaccination against serious ailments like Hepatitis B, displaying placards to raise awareness.
Baldev Raj, Founder and MD of Prius Communication, the official Communication Partner of the Medtech Policy Mahotsava, said, "In the healthcare sector, the MedTech segment constitutes nearly 40 % and plays a very critical role. The sector has huge potential for growth with the rising demand. As we are already providing consultancy to several MNCs for branding, advocacy, and Make in India, it is also an opportunity for domestic players to go for cohesive collaborations. All stakeholders need to join hands to tap this huge opportunity."
Other experts who shared their views include Dr. Rajeev Gautam, President-India Business at Horiba India Ltd.; Dr. Sachin Agrawal, Head of Artificial Intelligence at Sony Research India Private Limited; Aditya Kohli, Joint Managing Director of Allied Medical; and Chitiz Kumar, Vice President at Philips India Limited.
Industry leaders recommend that the government implement strong policies to boost the use of advanced manufacturing technologies and automation in the medical device industry. This will improve productivity, quality, and competitiveness, aligning with the government's Make in India vision to stimulate the economy and generate employment opportunities.
About Author