Fashion World Two Sensations Milind Soman and Vikram Phadnis on one Platform Local Bandhan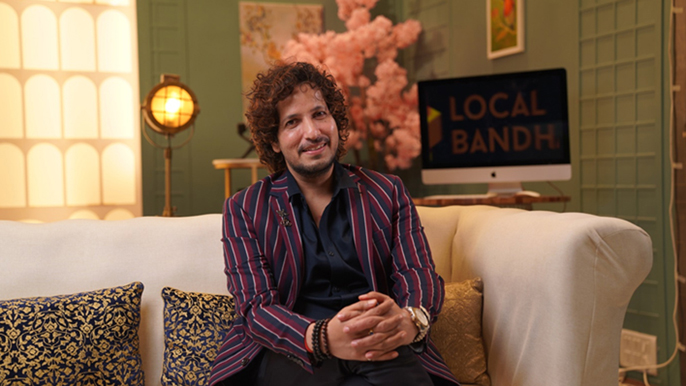 Mumbai (Maharashtra) [India]: Embark on a journey of self-discovery as Local Bandhan brings to you exclusive conversations with two of the most inspiring icons in the entertainment world, Milind Soman and Vikram Phadnis. Join Sagar Pagar, the mastermind behind Local Bandhan, as he delves into the ups and downs of their careers, the challenges they faced and the secrets to their success.
"Health is not just physical, but an amalgamation of mental well-being and physical fitness. You will be able to ascertain this through individual discover alone. It's not about the trainer or which fitness guru you follow, its more about a personal journey you embark on as a one-size-fits-all solution will never work" says Milind Soman while talking to Sagar Pagar on Local Bandhan. The supermodel-turned-actor, is the embodiment of fitness in India and has added many laurel to his credit including representing India in swimming, successfully completing his debut IRONMAN challenge in 15 hours and 19 minutes, and have been actively participating in marathons globally. As role model for people across age groups, he is now associated with Local Bandhan, India's first Marathi OTT platform for guidance as an expert.
Talking to Sagar Pagar further, the 57-year-old fitness icon shared a personal childhood incident – "As a 15-year-year-old kid, I was asked what I was in my life. My answer then was that I want inner peace. And I believe most of my life decisions even today, are based on that answer!"
The supermodel also spoke about the evolution of the modelling world, stating "In our days there was a certain stipulation of how a fashion model could look like. You had to be of a certain height or shape but those shackles are now breaking. You can be of any shape or size and yet be part of this industry. For advertising, your personality is what reflects on camera so that is essential!". He has been a guiding force to aspiring models about a range of topics, including tips and tricks on how to ace your fashion portfolio.
Another mega-star in the fashion world, Vikram Phadnis spoke to Sagar Pagar about his adventurous journey of over 3 decades in this glam world. With an eye for detail and a flair for sophistication, Vikram Phadnis has left a lasting impact on the Bollywood fashion scene, having adorned the likes of Amitabh Bachchan, Salman Khan, Kareena Kapoor, and many more stars with his signature styles.
The ace designer also spoke about his initial days and what has kept him going, "Knowing your brand is the crux to any successful fashion story. If I believe that a certain fashion trend is working for other designers and I follow it, it will fail. You need to know your brand, your work and make that your unique selling point"
The remarkable fashion designer and director has also been instrumental in breaking stereotypes in the fashion industry by introducing new and unconventional models to the ramp. How it was mandatory in the 80's and 90's that a super model has to have a certain body type and height. He recalled, "It was me and Hemant Trivedi, the genius behind Miss India, who broke the cardinal supermodel rule and introduced Malaika Arora and Rhea Pillai to the ramp. Malaika's first fashion show was with me and today she is a sensation on any fashion platform! Her beauty, confidence and style to showcase a design is so fluid, that her height becomes irrelevant"
From their trials to triumphs, Milind Soman and Vikram Phadnis have graciously shared their journeys in the industry and offered guidance to up-and-coming talents on Local Bandhan with Sagar Pagar. These two fashion world leaders have bravely broken barriers and are now giving back by imparting their knowledge and experience to the next generation.
On this platform, the mentorship of esteemed figures like Padmashri Dr. T.P. Lahane, Mrinal Kulkarni, Bharat Jadhav, Adv. Niranjan Mundargi, Hon. Nitin Sardesai and over 200 trustworthy experts is readily available on a plethora of subjects including arts, entertainment, education, medical, jobs, careers, business skills, social work, law, and fitness.
The visionary behind Local Bandhan, Mr. Sagar Pagar, has brought to life a platform that offers guidance from a bevy of trusted experts. And leading the charge as the face of the brand is none other than the renowned actor, Atul Parchure. But wait, there's more! Access to this treasure trove of knowledge and advice can now be had at your fingertips as Local Bandhan has made its mark on both the Google Play Store and the App Store.
About Author