6th Fitindia Conclave Doctors' day at Vigyan Bhavan, Medical fraternity stands together with Dr Sunita Dube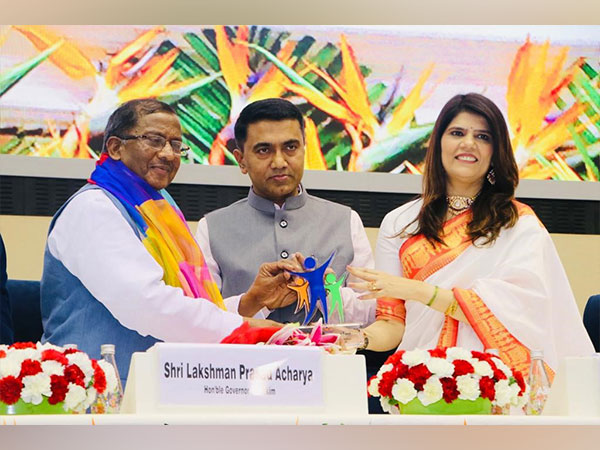 Medscapeindia- AMET is socio-scientific organisation of volunteer Doctors across country. Reputed Radiologist from country, Dr Sunita Dube leads initiative along with 21 speciality & Nation wide doctors join her at 6th FitIndia Conclave, celebrating completion of 9 years FitIndia movement, historical initiative on eve of Doctors Day at Vigyan Bhawan in Delhi.
MedScapeIndia, a renowned medical organization, has hosted the 6th year of the FitIndia Conclave at Vigyan Bhavan, New Delhi on June 30, 2023. It witnessed the participation of different 21 medical bodies of the country, making it a thundering gathering in jam-packed Plenary hall of Vigyan Bhavan, New Delhi of healthcare professionals.
During a person interaction with Honourable President of India Smt. Droupadi Murmu ji at Rashtrapati Bhavan, Dr Sunita Dube apprised Honourable President on the 6th Fitindia conclave. Honourable President conveyed her best wishes and complimented Dr Sunita Dube and team Medscapeindia for the great work being done by the organization towards the growth of the healthcare sector & Medical fraternity.
Dr Sunita Dube in her speech focuses four mega initiatives CPR literacy from 2% to 25 % by 2030 to save life from heart attacks by creating CPR soldiers, Preventing of Doctors Assult Bill 2023, World 1st Girl child anthem, spoke about her pending project which was announced by union health & Ayush minister in 2021 also doctors day to be celebrated as immunity day and Satue of Immunity & research centre to prepare India to fight future pandemic also ask everyone to learn CPR. All the specialisty & CM Goa gave live demonstrations of CPR to inspire to save life.
Dr Pramod P Sawant, Hon'ble Chief Minister of Goa said that In line with the national Fit India movement which started September 2019, we have initiated several programs and initiatives to promote a healthy lifestyle and preventive healthcare. We firmly believe that prevention is better than cure, and through various awareness campaigns and health education programs, we are encouraging our citizens to adopt healthier habits and make wellness a way of life. He further mentioned that We have fostered partnerships with leading national and international institutions to facilitate research, innovation, and the exchange of best practices. Through these collaborations, we aim to leverage the collective expertise and experience to further enhance our healthcare system and ensure that our doctors have access to the latest advancements in medicine.
Further the Hon'ble Chief Minister extended their support for the Girl Child Movement & Doctor's Legislative Council which was launched during the program.
While encouraging the remarkable work done by the Medscapeindia team, Shri Lakshman Prasad Acharya, Hon'ble Governor of Sikkim said that Fit India Movement is not just about individual efforts but It is about coming together as a community, as a nation, to create an ecosystem that supports and encourages fitness. Hon'ble Governor further gave stress to take care of the Physical as well as mental wellness. Hon'ble Governor further urged every citizen of Sikkim to take advantage of these blessings and make fitness a way of life. Engage in outdoor activities like trekking, cycling, or simply taking a leisurely walk amidst the picturesque surroundings. Encourage your friends, family, and colleagues to join you in these endeavors, for together, we can create a culture of fitness that permeates every corner of our society.
Shri Narayan Tatu Rane, Hon'ble Union Minister of Micro, Small & Medium Enterprises, Govt. of India have the extended best, Shri Rajnath Singh, Hon'ble Union Minister of Defence and Homeland Security, Govt. of India joined virtually and extended their support & blessing to the organizer for their various initiatives like Girl Child Movement, CPR awareness & Fit India Movement.
Dr Sunita Dube and her team of doctors had an interaction with Shri Nitin Gadkari. Hon'ble Union Minister of Road, Transport & Highways, Govt. of India on 26 June and discussed about their contribution in enhancing accessibility of doctors to increase their reach to poor and needy in far flung areas because of improvement surface connectivity in India. The honour of DOCTOR OF INDIAN ROADS was bestowed upon Shri Gadkari ji by Medscapeindia founder Chairperson Dr Sunita Dube along with 11 speciality head Live message of Shri Gadkari ji of complemented during the Conclave.
There were two panel discussions during the conclave namely Nexgen Med-Research, Technology & Innovation and Enhancing Wellness and Boosting Immunity: Exploring Strategies for
a Healthy Future where the dignitaries from different medical fraternities shared their knowledge and experience with the delegates. The dignitaries present during the session Padma Shri Dr. Mukesh Batra, Padma Shri Dr. Harsh Mahajan,Padma Shri. Dr. Anil Bhalla, Dr. G C Khelani, Former HOD Pulmonology at AIIMS, Dr. Uma Kumar, Rheumatologist, Dr Rakesh
Highlights of the conclave include, launch of Girl Child Anthem, Live CPR training 25 CPR stations, Launch of FIT India Fest, Release of Souvenir editions for Medscapeindia Magazine real time medical information for doctors & community, 9 th year of Fitindia movement 6 FitIndia Conclave of 3rd Immunity Day on Doctors Day 2023 and proposal special session was conducted by experts given for Doctor's Safety Act.
Medscapeindia also proposed a Bill was discussed and praposed for the Prevention of Assault on Doctors and Details of proposal of the Doctors' Safety Bill were given by Abhishek Khare, Advocate, Supreme Court of India.
All the present doctors supported aggressively Signature Campaign which was online & physically signed to support against  "Assault on Doctors"  & bill was discussed.
6th FITINDIA Conclave 2023 was attended by dignitaries 21 different medical association, industry, Government officials and whole medical fraternity with a gathering of more than 1300 delegates.
About the Organizer: Dr Sunita Dube, the founder of MedScapeIndia and a reputed MD Radiologist, the organization has been at the forefront of numerous flagship awareness campaigns. Some of the notable campaigns include Save the Girl Child started 2008, HIV Awareness started 2012, Preventive Medical Camps, Breast Cancer Awareness,  We Doctors' Campaign for COVID-19. MedScapeIndia has also been actively involved in initiatives such as the Doctors Handwriting campaign in 2012, Anokhee Pahal slum, rural, tribal health empowerment since 2014, Women Milion smile Empowerment projects, the 9 year of FIT INDIA Movement, Wellness Mission 2030 and the Annual MedscapeIndia National awards dedicated to save the girl child campaign since 13 years.
About Author